Sports
EWU running back reached potential after dyslexia diagnosis
Thu., Dec. 2, 2010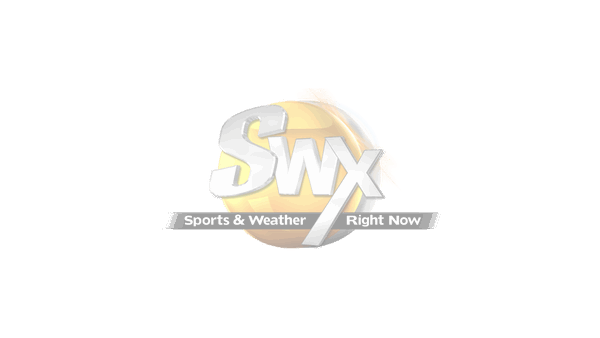 Considering all he has accomplished during his 3½-year stay at Eastern Washington University, the scarcity of college football options available to Taiwan Jones coming out of Deer Valley High School in Antioch, Calif., seems unfathomable.
But only until one factors in the learning disability that has plagued Jones throughout his life and kept his high school grade-point average hovering just south of the 2.0 most states use as an academic qualifying standard for college.
"In high school, I struggled a lot with classes," said EWU's athletically gifted junior, who will start at running back at Roos Field on Saturday, when the No. 1-ranked and fifth-seeded Eagles (9-2) host ninth-ranked Southeast Missouri State (9-2) in the second round of the Football Championship Subdivision playoffs. "I used to get these massive headaches whenever I tried to read, and that made learning real hard for me."
It wasn't until midway though his senior year that Jones was tested and diagnosed with dyslexia.
By then, only three colleges were still showing any interest in acquiring his considerable talents. And Jones, by his own admission, didn't have a clue where two of them – Eastern Washington and "some school back somewhere in one of the Dakotas, I think" – were located.
"I didn't get looks from any another schools," said Jones, who was recently named the Big Sky Conference Co-Offensive Player of the Year. "My only other choice was to go to a junior college in California."
Fortunately for Eastern, former Eagles assistant Malik Roberson had heard about the 6-foot-1, 200-pound Jones from a Bay Area friend. As soon as Roberson relayed the message to fellow assistant Chris Hansen, who was assigned to recruit in Northern California, Hansen headed to Antioch.
"The first time I saw him on film, I thought, 'Aw, geez, I gotta call this kid,' " said Hansen, who was coaching defensive backs for Paul Wulff at the time and saw what Jones had done as a running back and cornerback for Deer Valley.
Hansen made the call and hooked up with Jones at his high school that same day – only to learn about his suspect GPA. Hansen asked Jones, who was also a prep track standout, if he liked football best.
"His answer was yes," Hansen said, "so I told him, 'OK, then, we're going to start recruiting you.' "
From then on, Hansen called Jones "whenever it was legal," pointing out Eastern's past success with nonqualifiers and trying to sell him on coming to Cheney in that capacity, sitting out his freshman year to concentrate on his studies.
"I kept telling him he was going to either be an All-American corner or we'd move him to running back and he'd be the best offensive player in the nation," said Hansen, who now coaches running backs for Eagles head coach Beau Baldwin. "That was my selling point, of course I wanted him as a cornerback at the time, because I was coaching cornerbacks."
But Jones was under pressure from his father to enroll at a nearby junior college. So it wasn't until the night before the letter of intent signing day that he called Hansen and told him he was going to become an Eagle.
"When I heard that, I broke down and cried," Hansen said. "I really did."
Adding to Hansen's elation was the fact he had learned of Jones' dyslexia and was ready to petition the NCAA to consider Jones' learning disability and allow him to enroll at EWU in the fall of 2007 as a partial academic qualifier, which it eventually did.
"That allowed Taiwan to practice his freshman year, and when we moved him to scout team offense, he just tore us up," Hansen said.
The following year, Wulff was hired away by Washington State and replaced by Baldwin, who was forced to decide what to do with Jones.
With an abundance of veteran running backs on his roster, he opted to use Jones at cornerback, where he started four games as a redshirt freshman and played in three others after missing the first part of the season with a fractured bone in his leg.
But the Eagles finished a disappointing 6-5 that fall and failed to make the playoffs.
The following spring, Jones was moved to running back, and he has been dazzling opposing defenses with his blinding speed and bewildering change-of-direction moves since.
As a sophomore, Jones rushed for 1,213 yards and 15 touchdowns, while also catching 40 passes for 561 yards and four additional TDs. He was named a third-team FCS all-American by The Associated Press and The Sports Network, and honored as a first-team All-Big Sky selection.
This year, despite having missed one complete game and parts of two others with an abdominal contusion, Jones has amassed a conference-best 1,344 yards and 11 touchdowns and is averaging 134.4 rushing yards per game, which ranks No. 4 among FCS ballcarriers. In addition, he has caught 21 passes for 324 yards and three scores, and ranks second nationally with an average of 195.1 all-purpose yards per game.
"He's done just a phenomenal job back there," said Baldwin, who still openly questions his decision to keep Jones on defense in 2008. "But I had no way of knowing what he might have been capable of doing as a running back as a redshirt freshman, and we were a little inexperienced at corner.
"Could I have been wrong? Maybe, I don't know. But if I was wrong in 2008, I didn't want to be wrong in 2009."
Jones, with the help of Eastern's Disabilities Service Department, has been a hit in the classroom and is on track to earn a degree in recreation management.
"Since I was little, my dream has always been to play football," he said. "I'd be lying to you, though, if I said I thought I would actually be playing college football – or ever attending college, for that matter – because school was so hard for me.
"But the teachers, advisors and counselor here have done a great job of helping me and being patient with me."
Subscribe to the sports newsletter
Get the day's top sports headlines and breaking news delivered to your inbox by subscribing here.
---
Subscribe and login to the Spokesman-Review to read and comment on this story