Sports
Celtics set team record with 19th straight victory
Wed., Dec. 24, 2008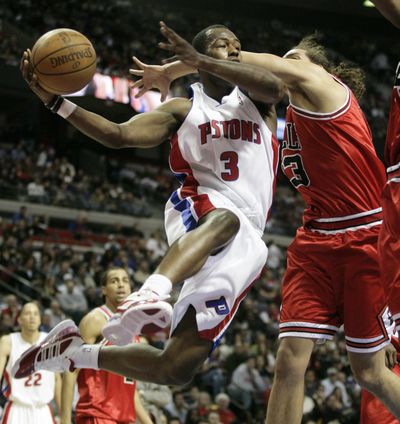 The Boston Celtics set a franchise record with their 19th consecutive victory Tuesday night in Boston, getting 18 points apiece from Kevin Garnett and Rajon Rondo to beat the Philadelphia 76ers 110-91.
The Celtics improved to 27-2 – the best start for a two-loss team in NBA history. The 19-game winning streak broke the team record set by the original Big Three (Larry Bird, Robert Parrish, Kevin McHale) in 1981-82.
•Bryant sparks Lakers: Kobe Bryant scored 26 points, Pau Gasol added 20, and the visiting Los Angeles Lakers beat the New Orleans Hornets 100-87.
Using swarming defense to bottle up Chris Paul for much of the game, the Lakers stormed to a 19-point halftime lead.
•Cavaliers unbeaten at home: LeBron James scored 27 points – 18 in the second half – and Mo Williams added 23 as the Cleveland Cavaliers remained the NBA's only undefeated team at home (14-0) with a 99-90 win over the Houston Rockets.
College men's basketball
Butler upsets Xavier
Matt Howard and Gordon Hayward both scored 19 points, and Butler (10-1) turned back one late Xavier (9-2) rally after another to beat the 14th-ranked Musketeers 74-65 in Cincinnati.
•Illinois routs Missouri: Demetri McCamey scored all but two of his 20 points in an almost perfect first half, helping Illinois (11-1) manhandle No. 25 Missouri 75-59 in St. Louis for its ninth straight victory over the Tigers (9-2) in the annual Braggin' Rights game.
•Sun Devils set school record: Rihards Kuksiks made five of Arizona State's school-record 17 3-pointers as the 20th-ranked Sun Devils (10-1) rolled to a 90-55 win over the visiting Idaho State Bengals (2-9) and matched their best start in 34 seasons.
NHL
Wings soar over Blues
Pavel Datsyuk had two goals and an assist and Ty Conklin made 33 saves to lift the Detroit Red Wings to a 4-1 win over the visiting St. Louis Blues.
•Flyers outlast Senators: Jeff Carter scored his NHL-best 26th goal, Simon Gagne got the winner late in the third period and the Philadelphia Flyers beat the visiting Ottawa Senators 6-4.
MLB
Wright, Jeter team up
New York Mets third baseman David Wright will get to share the left side of the infield with New York Yankees shortstop Derek Jeter as part of the U.S. team in the World Baseball Classic this spring.
Wright will take the place of Alex Rodriguez, who wants to play for the Dominican Republic.
Others committed to playing on the U.S. team include A.L. MVP Dustin Pedroia of the Boston, Cleveland center fielder Grady Sizemore, Chicago Cubs utilityman Mark DeRosa, Atlanta catcher Brian McCann and Los Angeles Angels pitcher John Lackey.
The U.S. roster will eventually include 28 players. Its first game will be March 7 against Canada at Rogers Centre in Toronto.
•Burke rejoins Mariners: Backup catcher Jamie Burke, 37, has returned to the Seattle Mariners after becoming a free agent, agreeing to a minor league contract. Burke appeared in 48 games with Seattle last season and batted .261.
NFL
Hochuli packs for Pack
Looking for referee Ed Hochuli to work another Denver-San Diego game, this one with the AFC West title on the line?
Forget it. Hochuli, whose blunder helped decide the first game between the Broncos and Chargers – in favor of Denver – will be a couple of thousand miles east in Green Bay on Sunday for the Detroit-Packers game. The Broncos and Chargers play Sunday night to decide the AFC West.
In the final minute of the first meeting in Denver in Week 2, Hochuli ruled that a ball that slipped from Broncos quarterback Jay Cutler's grasp was an incomplete pass instead of a fumble. The ball was recovered by the Chargers and Hochuli later said his decision was wrong.
•Jets' Ellis fined: New York Jets defensive end Shaun Ellis was fined $10,000 by the NFL for throwing snow at fans following the team's loss at Seattle on Sunday.
Several fans threw snowballs at New York players and staff as they walked off the field after the Seahawks' 13-3 victory.
Ellis said that he wasn't angry at the time, and there was no malicious intent on his part.
"It was all in fun," he said.
Miscellany
Naito retains title
Daisuke Naito of Japan defeated compatriot Shingo Yamaguchi on a technical knockout in the 11th round in Tokyo to retain his WBC flyweight title.
Naito improved to 34-3-2 with 21 KOs, while Yamaguchi dropped to 23-2-6.
•PGA schedule in flux: The PGA Tour has lost at least one tournament from its Fall Series because of the economy, and the final part of its 2009 schedule just released had another tournament still up in the air.
Gone from the Fall Series schedule is the Ginn sur Mer Classic, which was not expected to return because of the real estate crisis. Also missing is the Valero Texas Open, which moved to the spring to replace the defunct Atlanta tournament. The tour still is trying to create a tourney that would be played at Sea Island, Ga.
•Violations for South Carolina: South Carolina's athletic department is reporting 11 secondary NCAA violations in the past six months, including two from the program of new women's basketball coach Dawn Staley.
The school said that a women's basketball coach improperly text-messaged a prospect and a coach incorrectly publicized an informal practice scrimmage.
All violations are considered low-level infractions of NCAA rules.
Subscribe to the sports newsletter
Get the day's top sports headlines and breaking news delivered to your inbox by subscribing here.
---
Subscribe and login to the Spokesman-Review to read and comment on this story