Sports > Outdoors
CRITTER WATCH: Little Spokane River blooms with wildlife
Sun., June 10, 2007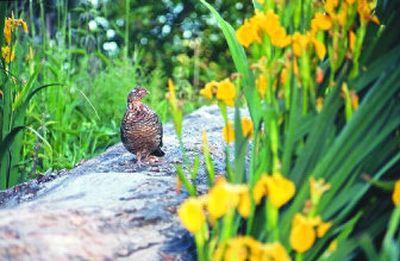 Paddlers aren't the only ones checking out the feral iris that was bursting in bloom last week along the Little Spokane River.
The ruffed grouse above, photographed from a canoe, seemed to enjoy the colorful display from his perch on a streamside log — perhaps its stage for the drumming display male ruffed grouse perform primarily in March and April to attract mates.
Moose are the most conspicuous wildlife on the Little Spokane. They have moved in and become comfortable around people in recent years, and because of their size, they are hard to miss.
For all the beavers, deer, turtles and other creatures one might see along the Little Spokane River, the streamside habitat is perhaps most special for its attraction to songbirds.
The Little Spokane River and Mount Spokane were among 419 sites in the United States where researchers conducted coordinated bird surveys in the late 1990s.
When the results were in, the Little Spokane River was a national standout. Only one other station in the country showed more diversity in bird species, according to Howard Ferguson, Washington Fish and Wildlife Department biologist.
The rich streamside (a.k.a. riparian) habitat of the Little Spokane attracts nearly twice as many bird species as the bird-rich slopes of Mount Spokane, Ferguson said.
The Audubon Society has documented more than 180 bird species visiting the Little Spokane River over the years.
"Especially in the drier country of Eastern Washington, birds congregate in riparian areas to find cover and food," Ferguson said.
The Little Spokane River stretches 45 miles from its headwaters near Newport to the confluence with the Spokane River. But only 7 miles of the river from St. George's School to the confluence with the Spokane River of river are protected in the Little Spokane River Natural Area managed by Riverside State Park.
Incidentally, the yellow iris blooming along the river is not wild or native to the stream. It's an ornamental plant that escaped from someone's landscaping decades ago and spread for miles along the river.
Pretty as it is in early June, the iris crowds out native plants that are of more use to native wildlife, biologists say.
Subscribe to the sports newsletter
Get the day's top sports headlines and breaking news delivered to your inbox by subscribing here.
---
Subscribe and login to the Spokesman-Review to read and comment on this story