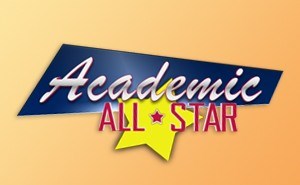 PASCO, WA - It's not every day you find an offensive lineman up for valedictorian. It's even rarer to find one gunning for his second state championship. "That's always one of my favorite things, when people see you from a distance and they just sort of assume stuff and then they come up and start talking to you and are just like oh, that's not what I expected you were," said Trenton Steach, this week's Academic All-Star.
Steach plays right tackle for the Chiawana Riverhawks. By day, he's a 4.0 student at Chiawana High School in Pasco. By night, he's helping the Riverhawks through the playoffs. "It takes a lot of work, it does, I mean there's a couple hours of work a night in any given class and you just... it takes focus to get it done and I mean I run on less hours of sleep that I'd like but sometimes you just gotta put your nose to the grindstone and do it."

Steach excels across the board academically, but his true passion is in science. "Ever since I can remember I've wanted to be an engineer and it just sort of fit together, thinking scientifically has always come pretty easy for me," Steach said.

He sees his own accomplishments as just one of the reasons why this Chiawana team is special. "As far as being a Chiawana athlete, I think it speaks well on our program that we have athletes out here who are capable of being both good athletes and good students as well."

For now, his main goal is getting the Riverhawks back to the Tacoma Dome turf, for a chance to defend their state title. "It was out of this world when we went to state last year. It was just, you really can't describe it. It was just a whole different experience . And just having the chance to go back, it's just a blessing. You don't get that lucky very often where you have the group of guys that we have and the chance to repeat that."