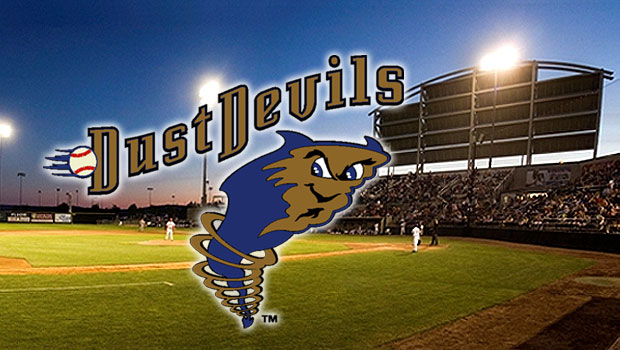 PASCO, WA - The Tri-City Dust Devils had the bases loaded with two outs in the bottom of the 9th inning, but they couldn't get a run across as they fell to the Hillsboro Hops 3-2 Wednesday night at Gesa Stadium. Hillsboro (22-11 2nd half, 44-27 overall) committed four errors in the victory.
Outfielders Marcos Derkes and Drew Weeks and first baseman Sean Dwyer each had two hits for the Dust Devils (16-17 2nd half, 30-41 overall). Derkes went 2-for-4 with a stolen base, his 20th this season. Weeks went 2-for-5 with a pair of singles. Dwyer went 2-for-4 with a double and an RBI. Dwyer's two hits extended his hitting streak to seven games.
Right fielder Denzel Richardson scored on what was the most interesting play of the game for Tri-City. Richardson hit a ball to Hillsboro right fielder Steve Nyiszter, who couldn't make the catch on a diving effort. As Richardson raced to second base, Nyiszter's throw hit him in the foot and kicked into left field where it was picked up by Hops left fielder Zach Esquerra. With Richardson heading to third base, Esquerra's throw sailed over third baseman Nate Robertson's head, allowing Richardson to score. Richardson was credited with a double while Nyiszter and Esquerra were each charged with throwing errors on the play.
Tri-City starter Helmis Rodriguez was brilliant on Wednesday night. Rodriguez pitched six shutout innings and allowed just five hits and a walk while striking out a batter. Rodriguez is now just six innings short of tying the Dust Devils single-season innings pitched record of 97 1/3 set in 2011 by Christian Bergman. Reliever Scott Firth (0-2) took the loss for Tri-City. Firth allowed two runs on five hits and two walks over two innings.
Starting pitcher Felipe Perez allowed two runs, one earned, over six innings for the Hops. Perez gave up seven hits, walked a batter and had two strikeouts on the night. Reliever Rob Wort (3-0) earned the win for Hillsboro. Wort pitched two scoreless innings while allowing four hits and wiggling out of a bases loaded jam in the 9th inning to earn his third win of the season. Right fielder Steve Nyiszter put the Hops in the lead in the top of the 9th inning with a leadoff solo home run. Nyiszter went 2-for-5 on the night with the home run and an RBI.
Tri-City and Hillsboro will play the fourth game of this five game series Thursday night at Gesa Stadium. Righty Blake Shouse (2-6) will take the mound for Tri-City to take on right-hander Austin Platt (3-2) for Hillsboro.