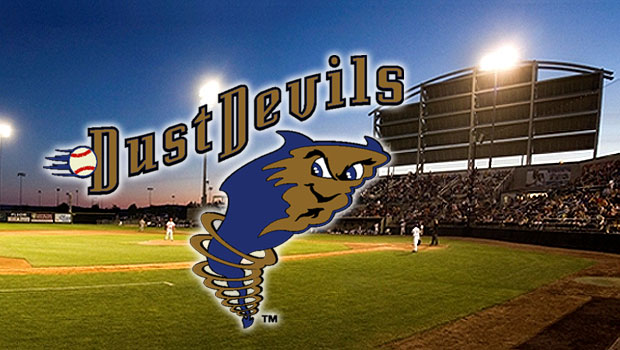 PASCO, WA - The Tri-City Dust Devils turned a triple play, but it wasn't enough as they fell 14-3 to the Boise Hawks at Gesa Stadium Tuesday night. The Hawks (8-11) racked up 19 hits in the win.

The Hawks had two on and no outs in the top of the fourth with catcher Mark Malave at the plate. Malave hit a hard groundball to Dust Devils (8-11) third baseman Shane Hoelscher. Hoelscher fielded the ball cleanly, stepped on third, threw to second baseman Sam Bumpers, who turned and fired a high throw to first baseman Josh Fuentes. Fuentes jumped and caught the throw and landed on the base in time for a 5-4-3 triple play. It was the first triple play at Gesa Stadium since August 3, 2005.

Starting pitcher Tyler Gagnon (0-3) took the loss for the Dust Devils. Gagnon went 4 1/3 innings, giving up three runs on four hits. He struck out two and walked two on the night.

Third baseman Jesse Hodges hit two deep home runs to left field and had six RBIs on the night for the Hawks. Outfielder Jeffrey Baez also hit a homer for Boise, his second of the series.

Boise starter Tyler Ihrig (2-0) got the win Tuesday night. Ihrig pitched six innings and allowed both Dust Devils runs on six hits with five strikeouts.

The Dust Devils and Hawks will play the fourth game in their five game series at 7:15 p.m. Wednesday night at Gesa Stadium. Right-hander Ryan Warner will be the starter for Tri-City, righty Erick Leal will stand on the bump for Boise.