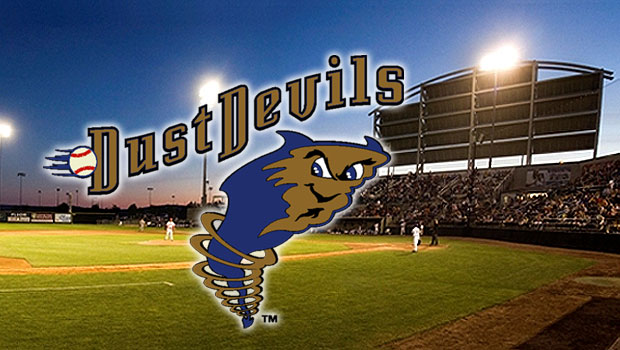 PASCO, WA - The Tri-City Dust Devils (3-4) defense kept the Everett AquaSox at bay as the Dust Devils earned a 2-1 victory Thursday night at Gesa Stadium. The Dust Devils were out hit 10 to six by Everett, but some timely strikeouts and a pair of double plays kept the AquaSox off the board.

Marcos Derkes shined offensively for Tri-City, going 2-for-3 and scoring a run. Sam Bumpers and David Bergin each had RBI doubles to score the Dust Devils two runs. Everett outfielder Phillips Castillo scored the only AquaSox run with a deep solo home run in the second inning. Castillo also had a double while going 3-for-4. AquaSox designated hitter Wilton Martinez also went 3-for-4 in the game.

Dust Devils starter Grahamm Wiest only gave up one run while scattering seven hits over four innings of work and left the game with a no-decision. Dylan Thompson (1-0) took over in the fifth and worked three scoreless innings, earning the win for the Dust Devils. Scott Firth came on and pitched a perfect ninth inning to get his second save of the year.

AquaSox starter Blake Holovach (0-1) had a solid outing, giving up two runs over seven innings with two strikeouts in a losing effort.
Tri-City and Everett will finish their three game series at 7:15 PM Friday at Gesa Stadium. The Dust Devils trot righty Blake Shouse out to the hill to square off against AquaSox right hander Ramire Cleto.