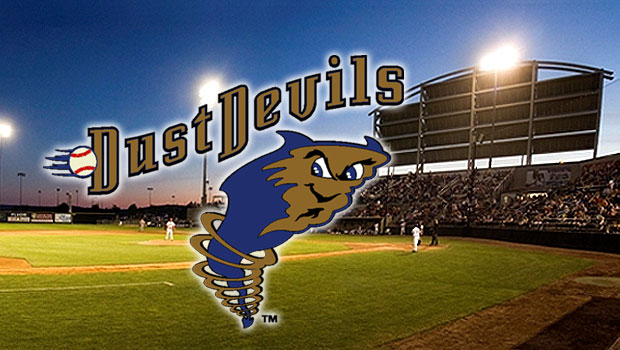 PASCO, WA - The Tri-City Dust Devils (2-4) ran early and ran often on their way to a 10-1 victory over the Everett AquaSox (1-5) at Gesa Stadium on Wednesday night. The Dust Devils stole eight bases on eight attempts in the game. Leading the way on the base paths for Tri-City was Mike Tauchman and Shane Hoelscher with two stolen bases each. Hoelshcer and Dust Devils catcher Jordan Parris each had their first professional hits in the win.

Helmis Rodriguez (1-0) was fantastic on the mound on Wednesday. The Dust Devils starter went 6 innings, giving up no runs on just four hits and a pair of walks. The lefty now has a 0.79 ERA in his first two starts with Tri-City. AquaSox starter Rigoberto Garcia (0-1) struggled in the loss. The righty surrendered seven runs, four earned, on four hits and four walks while striking out two.

The Dust Devils got on the board early with a seven run second inning where they sent 11 batters to the plate and had five of their eight stolen bases.
Dillon Thomas and Sam Bumpers led Tri-City with two RBIs apiece. Outfielders Francisco Sosa and Drew Weeks added two hits each.

The Dust Devils and AquaSox will play the second game of their three game series at 7:15 PM Thursday at Gesa Stadium. The Dust Devils are sending right hander Grahamm Wiest to the mound for his first professional start while Everett will start lefty Blake Holovach.