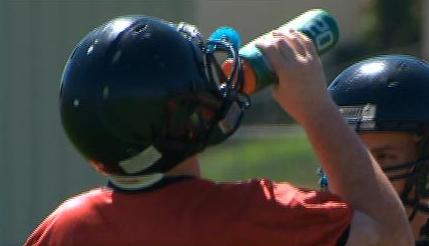 CHENEY, Wash. - With these hot temperatures, the Cheney Football Association is asking for your help to hydrate their players. They're asking for donations of powdered Gatorade in the large cans because starting Friday, the players will have two-a-days in 90 degree temperatures.
KHQ and SWX talked to Cheney High School's athletic trainer, Kyle Loughery, who said the players drink 40 to 60 gallons of Gatorade and water during one practice!
The liquids help prevent everything from cramping to concussions.
Loughery said, "Coach and I have a little thing: hydrate or die. It's one of those things where, if you don't hydrate, you may have a lot of injuries, you're going to have a lot of cramping, you're out for an injury."
The team does have scheduled water breaks as well as drinking fountains on the field so there have not been any problems with dehydration as of yet but coaches feel like this is just another way to keep the players feeling healthy in the heat.
If you'd like to find out how to donate sports drinks or powdered sports drinks, call Cheney High School at (509) 559-4000. Any cash donations can be made at STCU under Cheney Football Association. You are asked to please leave a note, so they can thank you for the donation. You can also give the donation to coach Jason Williams or Coach Big Willy for the football Team. Please make checks payable to Cheney Football Association.