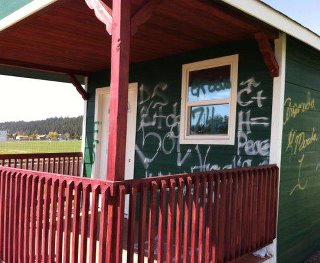 Press Release From Spokane Valley Police
SPOKANE VALLEY, Wash. - Spokane Valley Deputies responded to a vandalism call at Plante's Ferry Park on Wednesday morning. A Spokane County Parks employee arrived at work at about 6:45 a.m. this morning and saw a pump house had been spray painted. The employee saw several juveniles near the pump house and when they realized he saw them, ran from the scene. The parks employee called 911 and followed the juveniles for a short distance.
Spokane Valley Deputy J. Ebel was in the area of Pines and Desmet Road when he observed three juvenile males walking on Pines. Deputy Ebel saw the subjects had spray paint on their shirts and detained them at the scene. All three juvenile males later admitted to spray painting the sheds at the high school. One of the juvenile males admitted to spray painting the pump house at Plante's Ferry Park.
At about that time Spokane Valley Deputy K. Dodge responded to East Valley High School for a separate vandalism call. Deputy Dodge found three sheds next to the high school had been broken into and spray painted both inside and outside. These sheds are in a garden area at the high school that students had built.
All three juvenile males were booked into Juvenile Detention for three counts of Malicious Mischief 3rd Degree and three counts of 2nd Degree Burglary