PULLMAN, Wash. - He led the Cougars to an overtime win the Apple Cup last year. This year, WSU head coach Paul Wulff is counting on quarterback Kevin Lopina to do it again. The senior signal caller will get the start Saturday against the Huskies in Seattle, Wulff said Tuesday.
Quarterbacks Marshall Lobbestael and Jeff Tuel could see playing time if they're needed.
It was Lopina who played the role of hero last year in Pullman, rallying the Cougars to a double-overtime 16-13 win over the rival team. It was Washington State's fourth Apple Cup win in five years.
"It means a lot, it's my senior year and it's the Apple Cup, of course," said Lopina of getting the starting nod. "Last year we had that double-overtime win, so it means a lot. Hopefully I can go out 2-0 against the Huskies."
story continues below...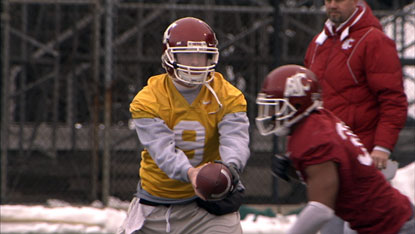 Senior QB Kevin Lopina will start Saturday against Washington in the Apple Cup (Photo: SWX)
"It's pretty easy to follow this game after a while if you've been exposed it," said Wulff. "Just the intensity, the tradition of it and the memories that people have from certain years. I think everybody goes every year and they're going to come away with a memory they're never going to forget."
Saturday's game will be the last for 15 senior Cougars, but it may also be the last time an Apple Cup will be played during the month of November. The Spokesman-Review reported Tuesday that, with the advent of the 12-game schedule and the popularity of late-season byes, games are being played later and later in the season. Next year's Apple Cup won't be played until Dec. 4.
Next year, Washington State will still be playing a game the Saturday before Thanksgiving. But instead of playing the Huskies, they'll be hosting Cal.
"We did get the week of Thanksgiving off, but we didn't get that week off," said Wulff to the Spokesman-Review. "With the schedule, it's a majority rules, so if the majority likes the schedule then it passes."
"I didn't like the schedule. I was in the minority."