Wednesday was the day thousands of teen athletes around the country made their intentions known about where they want to continue their athletic ambitions. From baseball to golf, Eastern Washington saw its share of signees on National Letter of Intent Day.
To begin, a handful of prep stars said they intent to play baseball at Washington State next year. Mitch Peterson (West Valley HS), Scott Simon (Central Valley HS) and Nate Blackham (Mt. Spokane HS) all signed letters to play for the Cougars.
"It's awesome because I've played with Scott [Simon] when we were little kids. And Nate [Blackham] - I've played with him for a couple of summers now. It's pretty cool," said Peterson.
story continues below...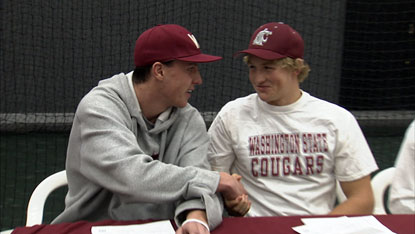 Washington State's baseball team received Letters of Intent from three local high school players on Wednesday (Photo: SWX)
"I'm really excited," added Simon. "I want to get a chance to play in some higher competition and hopefully go far."
"WSU is the only school I wanted to go to," said Blackham. "I worked really hard to go there and got to visit the campus and see what the coaches and players are like. It's just kind of a dream come true."
Thomas chooses Tennessee
Local golf star Chessey Thomas signed a letter of intent to play for the University of Tennessee next year. The senior at St. George's School is a three-time GSL Player of the Year who played golf for Lewis and Clark High.
Thomas started playing golf when she was 9-years-old. She placed 20th in last year's PGA Junior Championship, an amazing accomplishment for someone who's been dreaming of playing college golf for a long time.
"I've been thinking about this day since I was about 14-years-old, when I finally knew I was going to go to school," said Thomas. "It's just excited. I'm happy I got to share it with a lot of my close friends, coaches, teammates, teachers and family."
story continues below...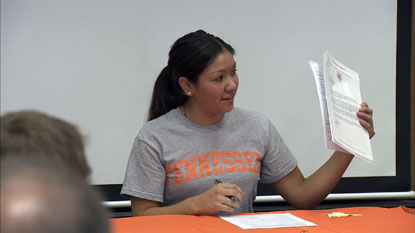 Chessey Thomas signed a Letter of Intent to play golf at the University of Tennessee (Photo: SWX)
More notable signings:
Alexis Olgard (Mead HS) signed a Letter of Intent to play volleyball at USC, where she's expected to start as a freshman.
Ephrata's 6'8" forward Patrick Simon committed to play basketball for Ken Bone at Washington State. He verbally committed to the Cougars as a freshman, but made that promise a formal one on Wednesday.
Gary Winston (Walla Walla HS), a 6'1" guard ranked the No. 2 point guard in the state, according to northwesthoops.com, committed to play at the University of Idaho.