SPOKANE, Wash. - The Spokane Shock announced today that WR Huey Whittaker, OL Branden Hall, DB Alex Teems and WR Markee White will join the 2010 roster, pending league approval.
Whittaker spent the 2008 season as a member of the potent Utah Blaze offense with the biggest season of his three-year career. Whittaker recorded 126 receptions for 1,541 receiving yards with 32 touchdowns in 2008. Whittaker also added eight rushing touchdowns and was recognized as a member of the 2008 All-AFL first-team.
In addition to his experience in the AFL, Whittaker has experience in the NFL with the New York Jets (2009), the Jacksonville Jaguars (2005), the Tampa Bay Buccaneers (2004) and the Pittsburgh Steelers (2004).
story continues below...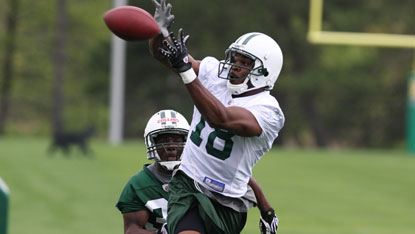 Huey Whittaker has experience with the New York Jets (2009), Jacksonville Jaguars (2005), Tampa Bay Bucaneers (2004) and the Pittsburgh Steelers (2004)
"When you combine a player with Huey Whittaker's physical abilities and his football intelligence you have a playmaker," Head Coach Rob Keefe explained. "At 6-5 220 pounds, he is a physical specimen that knows how to get in the endzone, knows to do everything a Coach asks him to do and he's hungry. You can't get any better than that."
Hall,6-4 330, spent the 2008 season with Los Angeles where he started in 16 straight regular season games and two playoff games for the Avengers. Hall was one of only three players who started in all of the Avengers games in 2008.
Prior to the joining the Avengers, Hall gained NFL experience with the Philadelphia Eagles in 2004 and 2005. In 2004, the year the Eagles advanced to the Super Bowl, Hall was a member of the practice squad. Hall resigned with the Eagles in 2005, but was released one game into the regular season.
"Branden Hall is an aggressive lineman who is very athletic," Keefe said. "When you combine his physical gifts with his knowledge of the game you have an outstanding football player."
In 2008, Teems, 6-0 195, played for the Cleveland Gladiators and collected 82.5 (66 solo tackles and 33 assists) with one interception in his AFL rookie-season. Teems spent the previous season, 2007, with the Spokane Shock and set single season franchise records in tackles (98) and pass break-ups (30).
"We are ecstatic to have Alex come back to Spokane," Keefe explained. "He has played at a high level of football and excelled. Not only is he a talented athlete, but he is also one of the most physical defensive backs I have ever seen. "
White, 6-6 215, was an integral part of the ArenaCup Champion Shock's offense. In 11 regular season games, White recorded 57 receptions for 602 yards with 18 touchdowns. In the post-season, White added 13 receptions for 170 yards with six touchdowns, including one in the ArenaCup victory over the Wilkes/Barre Pioneers.
"It's a good start to be back and to renew our Championship from last year, but this is a higher level of football," White explained. "Each year, I want to get better; I don't want to be the same player I was last year, I want to be greater."