What's done is done, but the Big Sky Conference on Tuesday said officials working the Eastern Washington-Montana football game last weekend did a poor job that demands consequences.
The Eagles lost the game to the No. 3 Grizzlies 41-34 in Missoula - a game seen live on SWX. Fans not only saw Eastern Washington lose when Montana scored a touchdown with 1:18 remaining in the game, they also witnessed some questionable calls that the conference officials said should not have been called.
"The officiating in Saturday's EWU-UM game was not up to standards we expect and require," said Big Sky Commissioner Doug Fullerton in a news release. "Our officials are evaluated on every play of every game by observers in the stadium and by independent film evaluators - many with NFL experience - following the games. There are consequences for officials are they are examined."
The conference found two plays in particular it deemed "troubling".
In the third quarter an Eastern Washington receiver Aaron Boyce was called for unsportsmanlike conduct as he slowed down on the way into the end zone. He had just broken a tackle on a long pass play and appeared surprised when the referee next him at the goal line threw his yellow flag. Those who reviewed the tape for the conference said Boyce should not have been penalized on the play.
story continues below...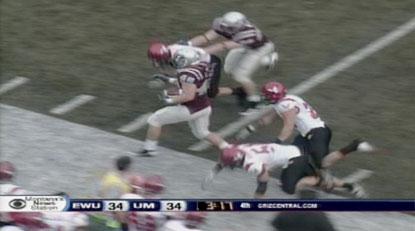 Video shows EWU's Jesse Hoffman being pushed into Montana's Kevin Klaboe in the fourth quarter of last Saturday's game. (Photo: SWX / PAX)
The second botched call came in the fourth quarter when EWU's Jesse Hoffman was flagged for a late hit out of bounds. Hoffman, however, was illegally blocked in the back by a Montana player, which forced him to fall into Montana's Kevin Klaboe. Klaboe was, by then, about a yard out of bounds. The penalty against Eastern Washington gave Montana an added advantage on a drive that directly determined the outcome of the game.
"We continue to examine at least four more plays," Fullerton said. "We don't normally comment on officiating, nor do we plan to regularly do so in the future. However, there are cases where it is warranted, and this is one."
Officials who worked Saturday's game could be disciplined based on the findings of the examination, according to Jon Kasper, Assistant Commissioner for the conference.
Possible actions include some kind of suspension, although Kasper said any decision on a course of action would not be made public.