Bucs have to step things up for Linfield
SPOKANE, Wash. - Whitworth's star running back could be finished for the season. Senior Adam Anderson reinjured his right ankle in last weekend's loss to Willamette and could be down for up to two months.
Anderson returned to the lineup after injuring the same ankle earlier in the season. His return was short lived. Unable to cut or drive through tackles as he is normally able to do, the 2007 and 2008 NWC Offensive Player of the Year was held to just 32 yards on 11 carries.
Whitworth plans to submit for a medical redshirt on Anderson's behalf once the season has concluded. If the NCAA approves the request, Anderson, who is getting looks from the likes of the New Orleans Saints, could be given one more year of eligibility.
Losing Anderson means senior backup Milton Nelson will have to carry the load for the Pirates' remaining games. Last week he carried eight times for 26 yards and scored one touchdown.
story continues below...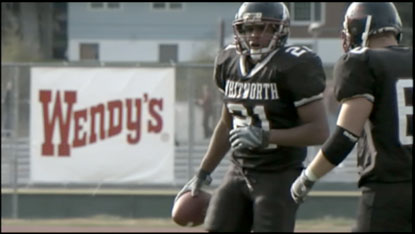 Adam Anderson reinjured his right ankle last Saturday against Willamette (Photo: SWX).
Nelson, and the rest of the Bucs, will have to step things up to compete in Saturday's game against No. 7 Linfield - a game seen live on SWX at 1 p.m. The Wildcats are back in the top ten in the D3football.com poll for the first time since 2005 after crushing Menlo last week 31-7.
Linfield has been strong on both sides of the ball, outscoring opponents an average of 34-19. On offense, the Wildcats gain an average of 422 yards to their opponents' 278. Quarterback Aaron Boehme drives the offense, completing nearly 60 percent of his passes for 1,016 yards so far this year. He's thrown nine touchdowns and only three interceptions. His favorite target is Trevor Patterson, who leads the league with 28 catches for 414 yards and six touchdowns. In the running department, Aaron Williams leads the NWC in rushing, averaging a touch more than 83 yards per game and three touchdowns.
The Bucs are coming off its largest margin of defeat in a Northwest Conference game since 2002 and are motivated to right the ship. They'll particularly look to improving their defense on third downs. Last week the Pirates allowed Willamette to convert 9 of 14 third down attempts, including one on a 98-yard drive for a touchdown at the end of the first half.
With the absence of Anderson in the backfield, the Pirates could be looking to pass more, requiring the series of senior receiver Eric Entel. Entel had his biggest game as a Pirate last week, hauling in eight passes for 127 yards, including a 35-yard touchdown reception in the third quarter. Quarterback Andrew Durant completed 12 of 19 passes for 144 yards with one touchdown and one interception.