Brittany Sparks of the Eastern Washington University women's soccer team broke the school record for goals in a season over the weekend and was rewarded for her performances with Co-Big Sky Conference Player of the Week accolades.
For the second time this season, she also tied the school record for goals in a game with a two-score performance. Her two tallies helped EWU to a 5-1 win over South Dakota on Sunday (Sept. 27) and pushed her season total to eight, setting that school mark.
The Kennewick, Wash., native also had a goal to help Eastern to a 2-2 tie with San Francisco on Friday (Sept. 25).
story continues below...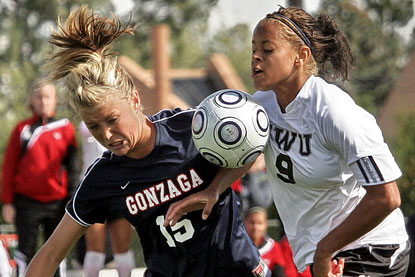 EWU's Brittany Sparks broke the school record for goals in a season in the Eagles' 5-1 win over South Dakota (Photo: EWU Athletics)
The eight goals in a campaign broke the former school record, held by Lauryn Koelzer who had seven a year ago. The record breaker was an impressive score in and of itself, as she sped from 40 yards away before beating three defenders and the goalkeeper in the box to create an open net and slotting the ball home.
Sparks ranks 23rd among all NCAA Division I players in goals per game with 0.8 and is far and away the Big Sky leader in that category, doubling the second-best average. She has also helped the team to 1.8 goals per game, which leads the league and ranks 88th nationally.
Incredibly, she has scored in four straight games and, dating to the final two games of 2008, in 8-of-12 contests.
The award is her second of the season and of her career, as she previously earned the league accolades on Aug. 31. Two days prior, she had scored twice in a 4-1 win over McNeese State.
Sparks shared this week's honors with Northern Arizona's Corie McGuire, who scored twice in a 2-1 road win over previously-undefeated New Mexico over the weekend.
The Eagles will next play their Big Sky opener at Weber State on Oct. 8.