Cougars turn attention to SMU
by Justin Lange, SWXRightNow.com
The Washington State Cougars went into Saturday's game against Hawaii looking for their first win of the season. Unfortunately for them, things didn't turn exactly as planned.
The Cougars played catch-up through the entire game and ended up with a 38-20 loss and a bus trip back to Pullman.
"Our sloppiness [Saturday] - which it was - a lot more than it was last week," said head coach Paul Wulff after the Cougars' second loss of the season.
story continues below...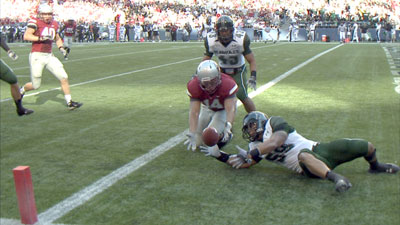 Senior WR Tony Thompson tries unsuccesfully to recover a WSU fumble (Photo: SWX)
"We're a team that has to learn how to start," said starting center Kenny Alfred. "Starting and finishing are both crucial."
Washington State watched the Warriors jump out to a 35-0 lead before finally getting on the scoreboard. They were plagued by turnovers in the first half, taking them out of the game seemingly before it even began.
"When you have five turnovers in one half you're not going to beat anybody at any level," said Wulff.
"Those seven turnovers kill us," added quarterback Kevin Lopina, who passed for a career-high 191 yards. "That's what we did last year: we turned the ball over. And we can't have that."
If the Cougars want to get on the winning track, they'll have to hope aboard soon. They get Southern Methodist next week as a final tune-up before the triple threat of USC, Oregon and Arizona State. The rest of the schedule isn't cake, either.
story continues below...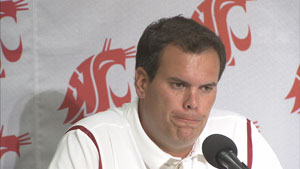 Coach Paul Wulff called his team's performance against Hawaii "sloppy" (Photo: SWX)
"You've lost some games over the years, and you're in this mode. It's the toughest thing we have to overcome right now," said Co-Defensive Coordinator Jody Sears. "As a staff we have to convince these kids that they can win football games."
Despite the second crushing loss in as many weeks, the Cougars are still ready to get back to work. That seems to be a quality this year's team has over last's: the ability to bounce back and get ready for the next game.
"I think we all need to be upset right now," said Alfred. "But at the same time I think the focus has to shift as soon as possible to preparing for next weekend."
"We just have to forget about it and start fresh with this week," added Lopina.
Washington State vs. Southern Methodist
Sat., Sept., 19 at 2:00 p.m.