*Listen to what Jake Plummer has to say Thursday, May 14th on KHQ Local News at 5 in a special '6 Questions' segment with Dan Kleckner.
In 2006, after ten years as a quarterback in the NFL, Boise native Jake Plummer traded in the fortune and fame of professional football for the peace and quiet of Sandpoint, Idaho. And now he's ready to get back in the game.
"Ten years was always where I thought would be a good time to retire - double digit career and be able to walk away healthy," said Plummer during a sit-down interview in North Idaho this week. "I've accomplished both of those."
But come fall 2009, Sandpoint's most famous resident will return to football, not as a player, but as a coach. He'll be combing the sidelines at War Memorial Field as an assistant coach for the Sandpoint Bulldogs.


Story continues below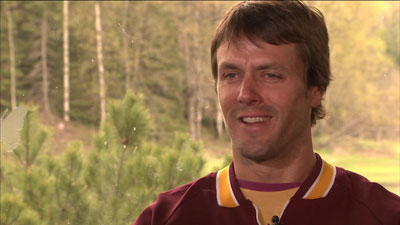 Jake Plummer will be an assistant football coach at Sandpoint High School this fall (Photo: KHQ / 6 Questions)
"I thought if I was a kid at Sandpoint High School and I knew any quarterback, whoever it was, retired and lived just outside of town, and he wasn't coming and helping me out and I was the quarterback, I'd be a little upset at that guy," said Plummer.
So the man once known as "Jake the Snake" approached head coach Mike Mitchell. For two years, Mitchell had already been talking to Plummer's brother, a local sports editor, about getting Jake to help out with his team.
"And [Mitchell] said, 'I've been pestering your brother every time I see him'. You know, 'tell Jake when he's ready, come in, we've got a spot for him anytime he's ready.'"
Plummer's ready for the job, but his coaching ideas won't be anything like the "win at any cost" strategies of former Denver coach Mike Shanahan.
"Being a coach, I want to stress the importance of having fun and challenging yourself," said Plummer.
For former NFL starter hopes his presence can get kids excited about the game. He also hopes to become a boon to the Bulldogs program.
"Hopefully just me being involved, maybe ten more kids will come out. Or maybe one more kid."
And then Plummer will be defined as a staple of the Sandpoint community.